powered by
Upon delivery, age will be verified to be 21 or older.
News & Reviews
2021 Esser® Vineyards Cabernet Sauvignon, Paso Robles
90 Points / Gold Medal / Exceptional / Best Buy
2022 Esser® Vineyards Chardonnay, Monterey County
88 Points / Silver Medal / Highly Recommended / Best Buy
2019 Esser® Vineyards Pinot Noir, Monterey County
88 Points / Silver Medal / Highly Recommended / Best Buy
2018 Esser® Vineyards Cabernet Sauvignon, Paso Robles
92 Points / Gold Medal / Exceptional / Best Buy / Top 10 World Wide for Red Wine $20 and Under
2018 Esser® Vineyards Chardonnay
91 Points / Gold Medal / Exceptional / Best Buy
New Partners in the Islands
What could be better than basking in the Island sunshine with a glass of award-winning Esser Wine. You can do just that with our new partners:
Paradise Cruise Lines
Alive & Well Resorts - Turks & Caicos
Blue Illusion Resort - Bahamas
Mayan Princes Resort - Roatan Honduras
Pineapple Center (retail) - Roatan Honduras
Roatan Wine Room (retail) - Roatan Honduras
Palms Hotel - Turks & Caicos
Bimini Resort & Casino - Bimini Bahamas
---
This is a call for Abarths and Fiats. In partnership with Fiat Chrysler Automobiles, we are celebrating the 70th anniversary of Abarth. A special display area to commemorate the Fiat & Abarth vehicles will be set up at the new location on the Bayonet Golf Course, giving special recognition to these cars. We welcome the celebration of the Fiat America and join them in appreciating the Abarth and Fiat marques. [Continued… ]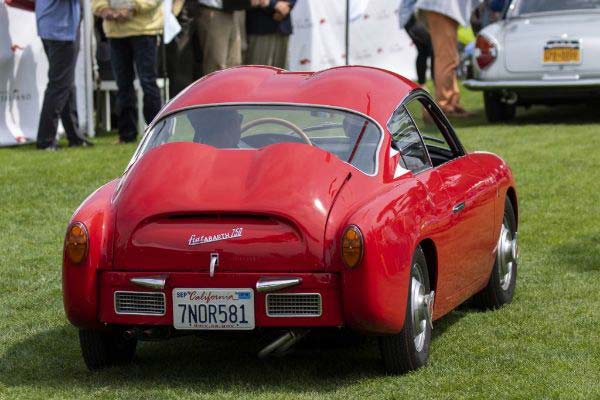 ---
We are pleased to share with you that our partner, Heacock Classic, a leader in the collector vehicle insurance market, will host in their display at Concorso Italiano Jack May and his 1973 Ferrari Dino 246 GTS #05984.
In 1975 Jack and his Dino were immortalized in racing history when he set the record time from New York City to Los Angeles during the Cannonball Baker Sea-to-Shining-Sea Memorial Trophy Dash. [Continued… ]
---
From the 2019 World Wine Championships [read the Tastings review… ]
---
Gold – 2014 Esser® Cabernet Sauvignon
Silver – 2015 Esser® Pinot Noir
Silver – 2017 Esser® Sauvignon Blanc
Silver – 2017 Crush 8® Chardonnay
---
One Million and Counting!
We are so pleased to offer you wines of the highest quality. Also, with our latest bottling of Cabernet Sauvignon Paso Robles, we surpassed our ONE MILLIONTH BOTTLE of Esser® wines produced since our launch of Appellation Ventures LLC. Thanks for sharing in our success. Cheers!
---
We have much to share with our new offerings coming to you and your teams within the next few weeks and early 2019. We will be releasing two new and exciting products within our Esser® wines line-up.
Cabernet Sauvignon
Our new Esser® 2017 Cabernet Sauvignon will be from Paso Robles appellation, an enhanced quality with a blend of Cabernet Sauvignon, Petite Syrah, and Petit Verdot...It is a refined, full-bodied, rich and well balanced wine with fresh acidity and a solid polished tannin structure. [continued…]
Sauvignon Blanc
We will also be releasing our new and exciting 2017 Central Coast Sauvignon Blanc. A refined and balanced wine from both Paso Robles and our award winning Monterey production. This Coastal Sauvignon Blanc is crisp and refreshing, with bright aromas of citrus and melon. It delivers a full palette of bright flavors of lemon, lime, and fresh cut grass. [continued…]
---
WineLibrary review of our 2014 Cabernet Sauvignon
---
Garnet black color. Fruity, savory aromas and flavors of mocha, caramelized bacon, and boysenberry pie with a silky, bright, fruity light-to-medium body and a polished, interesting, medium-length apples in vanilla cream, nut brittle, and cedar finish with fine, chewy tannins and light oak. A very tasty and layered cabernet that is sure to please. [read the Tastings review… ]
---
In the most recent Tastings competition by the Beverage Testing Institute, Esser® 2015 Chardonnay was celebrated as having the Exceptional quality and also uncommon value. The award is Gold with a 93 rating and also Best Buy at suggested retail of $14.99/bottle. [read the review… ]
---
---
Our Winegrower is a Proud Member of The California Sustainable Winegrowing Alliance
Benefiting the environment, the community and high quality grapes and wine.
Certified California Sustainable Winegrowing is a certification program that provides verification by a third-party auditor that a winery or vineyard implements sustainable practices and continuous improvement.
The vision of the Sustainable Winegrowing Program is the long-term sustainability of the California wine community.
For more information, visit: www.sustainablewinegrowing.org